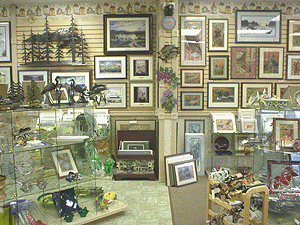 BUSINESS HOURS

Wednesday - Saturday 12:30 p.m. to 5:30 pm


The BIRDNEST ART GALLERY & CUSTOM PICTURE FRAMING is located in the scenic downtown waterfront district of Gig Harbor, Washington, at 3202 Tarabochia Street. We have been servicing the Gig Harbor, Port Orchard, Tacoma, and Puget Sound area since 2002 under the same original ownership and location. The BIRDNEST is the largest independent art gallery and the most experienced custom framing shop in the Harbor.

Our framing services specialize in the highest quality of innovative custom picture framing to fit anyone's needs or budget. We have over eighteen years of framing experience providing a wide array of in-house talent to take on any project. In the design process we recognize each project is as unique as its owner. We stock a large selection of framing inventory so we can provide the fastest project turn-around time if your project is time sensitive. We also stock numerous styles of custom, pre-made frames in many standard sizes to simply accommodate your framing needs. We also provide hanging services to install art and mirrors in homes and offices.

Our gallery features a distinctive collection of Northwest art by over 60 regional and Pacific Northwest artists. We carry the largest collection of nautical, maritime and wildlife artwork by some of the Northwest's finest artists. Among the artists we represent are renowned names such as Randy Van Beek, Dave Bartholet, James Williamson, Betty Vestuto, Sue Colemen, Lynn Bean, Tom Lynch and Alex Young. We offer a wide selection of prints, originals, exclusive lithographs and giclees. Our immense collection also includes fine metal art and bronze sculptures by Doug Bison, Don Dye, Stuart Hurd, Doug Mader, and Bill Matheson.

Our gifts and home décor items include pottery, art glass, wood working, jewelry, art cards, windsocks, and Norwegian Rosemaling.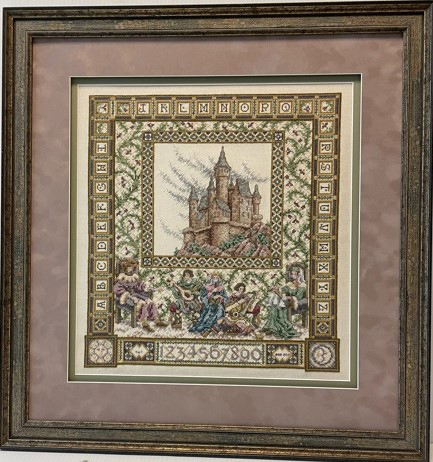 Pictured here is an embroidered castle piece.
Double matted with suede top mat and spacers
between each mat to add dimension to the artwork.
Museum glass was also used giving the viewer
the impression it has no glass but yet the glass
preserves the art without any glass glare.
We use UV protective glass when museum glass
is not warranted. Call or come in to see the
innovative framing techniques we can apply to your artwork. The Birdnest Gallery is located at 3202 Tarabochia Street on the lower level of Harbor Center building. We have abundant off street private parking right at our front door. Simply exit Pioneer Way at the Harbor General Store onto Tarabochia Street and we will be on your immediate left.
We look forward to seeing you at THE BIRDNEST ART GALLERY & PICTURE FRAMING soon!
Please tell us if you saw our website!
---



3202 Tarabochia St.
Gig Harbor, Washington 98335
Phone/Fax: 253-857-6341
Email: art@BirdnestGallery.Com
Web: www.BirdnestGallery.Com

View a map to The Birdnest Gallery
---