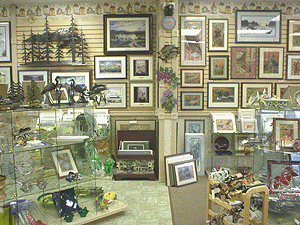 The BIRDNEST ART GALLERY & CUSTOM PICTURE FRAMING is located in scenic downtown Gig Harbor, Washington. We feature a distinctive Northwest artwork collection by over 70 regional and Pacific Northwest artists. We specialize in innovative custom picture framing since each piece of art work is as unique as its owner. We also install art work in homes and offices. From pictures to metal art or even airplane propellers we can hang just about anything!

We are Gig Harbor's only gallery which stocks numerous styles of custom pre-made picture frames in many standard sizes and offer custom framing for any artwork. We also make custom framed mirrors from the many moulding styles we stock.

We carry Gig Harbor's largest collection of nautical, maritime and wildlife artwork by some of the Northwest's finest artists. Our Gig Harbor art gallery features renowned artists such as Randy Van Beek, Dave Bartholet, James Williamson, Betty Vestuto, Sue Colemen, Lynn Bean, and Alex Young with a wide selection of originals, exclusive lithographs and giclees. Our immense collection also includes fine metal art and bronze sculptures by Doug Bison, Don Dye, Steven Fair, Stuart Hurd, Doug Mader, and Bill Matheson.

Our Gig Harbor gifts and home décor items include pottery, art glass, turned woods, jewelry, art cards, windsocks, and Norwegian Rosemaling.

Birdnest Art Gallery & Picture Framing works personally with all of our artists which allows us to satisfy the desires and needs of our customers by creating the perfect work of art for any décor and within just about any budget.




Simple driving directions from HWY 16 to the Birdnest Art Gallery at 3202 Tarabochia St., Gig Harbor, WA. Exit HWY 16 at the Wollochet/City Center exit. Turn right and head down Pioneer Way towards the historic waterfront district. As you come down Pioneer Way look for Key Bank on the right at Judson St. Just past the bank look left and you will see the "Harbor Center" building with the turquoise colored roof cap. The Birdnest Art Gallery is located on the lower level of Harbor Center. Turn left onto Tarabochia St. and you are in our parking lot. We are also directly across Tarabochia St. from Seasons on the Bay and just one short block up Pioneer Way from the center of downtown Gig Harbor. There is always plenty of off street customer parking at our front door.

We look forward to seeing you at THE BIRDNEST ART GALLERY & PICTURE FRAMING soon!

Please tell us if you saw our website!
---



3202 Tarabochia St.
Gig Harbor, Washington 98335
Phone/Fax: 253-857-6341
Email: art@BirdnestGallery.Com
Web: www.BirdnestGallery.Com

View a map to The Birdnest Gallery
---
BUSINESS HOURS
Mon – Sat. 11 am to 6 pm
Sunday 12 to 4 pm
Keywords: Gig Harbor, art gallery, picture framing, picture frames, Hand-crafted Art, artwork,
original art, prints, posters, Gifts, Gig Harbor, Washington, WA, Birdnest